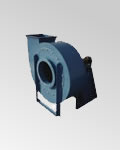 Centrifugal flow fans operating with a wheel peripheral velocity in the range of 170,000 feet per minute are designated as industrial fans. Industrial fans are commonly built as AIR HANDLER and MATERIAL HANDLER.
Air-handling fans -- designed to move air or gas at high pressure. Application of these fans are in the areas of pollution control and other special equipment.
Material handling fans -- these fans are designed for use in air containing long fibers, stringy materials, granular materials, and heavy dust.
High-pressure blowers -- designed for applications that require low or moderate air volume at pressure ranging up to 50 in. of water. Used widely in pneumatic conveying, blast furnace, air bearing surfaces in textile industry, and many other special applications.